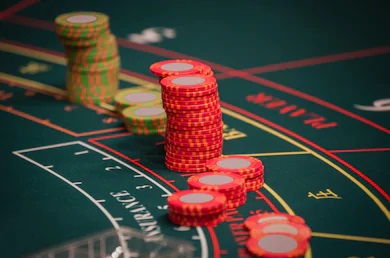 Baccarat is a card game that is very often found in Las Vegas casinos. It is less common in the UK casinos but has been made very popular thanks to the various James Bond games in which the secret agent regularly plays. This card game pits the players (ponies) against the banker. If you have never played this casino game before, it is time to practice free online baccarat before starting a real money game at a casino. You'll see, there's nothing complicated to do except betting, baccarat has a reputation for being played quickly, but you have to stop believing that this game is only for regulars, it's a very simple game (if not the simplest), that any beginner is likely to understand in a few minutes of practice. Practice in demo mode on one of the many variations of free baccarat we offer: Classic Baccarat, Punto Banco, Railway or Mini Baccarat.
Best Casinos in 2022 to play Baccarat Online
All British Casino


100% up to £100
+ 100% Match Bonus
+ Always 10% Cashback!


18+ T&C's Apply

Total


£100
Claim Bonus

Mansion Casino




100% welcome bonus up to £200




18+ T&C's Apply

Total


£200
Claim Bonus

NoBonus Casino




10% cashback




18+ T&C's Apply

Total


10% cashback
Claim Bonus

Play Ojo Casino




50 extra spins bonus




18+ T&C's Apply

Total


50 spins
Claim Bonus

Regent Casino


100% bonus up to £50
+ 20 bonus spins


18+ T&C's Apply

Total


£50
Claim Bonus
You will be able to play online baccarat for free on our guide, the versions are very realistic and are very much inspired by the atmospheres of land-based casinos. This is even more true when you try the real money Live Baccarat which is played with a live dealer!
The rules of baccarat
Whether you play baccarat online or in a real casino, the rules are the same. There are many people who make mistakes when trying to explain the main purpose of baccarat. It is wrong to say that the objective is to draw the best hand to win (the closest possible 9). In baccarat, the real objective is to predict who will receive the best winning hand: you or the banker. You will therefore have to guess which hand will be closest to 9: you, the banker or a tie.
Each card in the game has a different value:
From Ace to 9, the cards have their face value.
The 10, Jack, Queen and King are the logs and are worth 0.
The value of a game is obtained by adding up the value of each card. You only have to keep the number of units and remove the number of tens. Thus, the total of the points of your game will necessarily be between 0 and 9. Here is an example: If you receive a 4 and a 5, your hand will be worth 4 + 5 = 9. If you receive 4 and 8, your hand will be worth 4 + 8 = 12 so 2.
Several rules are then added to see if there is a possible new draw.
The natural rule: If the first two cards are 8 or 9, there is no possible draw.
The third card rule: This rule will automatically draw a card for the player or the banker in some cases.
If the value of the first two cards added together is between 0 and 5, a new draw must be made.
If the value of the first two cards added is between 6 and 7, you must stay.
Then when the player has 3 cards, the rules change and the banker's rules apply, the banker will have to draw if he has 0, 1, 2 or 3. Otherwise, it will draw according to the value of the cards obtained by the player.
How to play baccarat online?
To play free online baccarat, you will first need to make sure that Adobe Flash Player is enabled on your web browser. Then, choose the version of baccarat that you want to discover on our guide, you will find some small changes from one version to another, but it mainly concerns the graphics. Globally, it's always the same principle with a similar interface. On the interface, you will be able to place the chips either on the Player, Banker or Tie box if you want to bet on a tie.
The course of the baccarat game is very simple, the first thing to do is to place your bets, there are three bets available. The Banker deals two cards to the players and to itself face up. The values of the cards are added up and a third card may be drawn under certain conditions. Winnings are then distributed if you are correct.
What are the winnings in baccarat?
You win once your bet if you bet on the right winner (banker or player). Please note that a 5% commission is sometimes charged if you bet on the banker. You win 8 times your bet if you win on a tie.
What strategy should I use when playing baccarat?
There are no strategies strictly speaking to win at baccarat, but like all casino games, you can easily optimize your chances of winning.
First of all, it will be necessary to bet correctly, there are 3 different bets and they do not all have the same probability of winning. Thus, although you will receive 8 times your bet if you win on a tie, it will be more interesting to focus only on simple bets by betting on the banker or the player. In this case, you should avoid tie bets, unless you have a hunch. This is because the house advantage for the tie bet is much greater. In fact, betting on the banker is the most advantageous thing to do based only on the rate of return, this bet is slightly less advantageous for the banker than if you bet on the player to win, that's why the bank usually takes 5% commission in case you bet on it.
Moreover, chance is not the only element that counts in baccarat. You can make a decision during the game: keep your hand or draw another card to try to improve the hand, but at the risk of getting a worse one. So using your judgment and intuition can also tip the balance slightly in your favour.
The final strategy will be to manage your bets well. If you've never played before, going with small amounts may be the best technique to adopt or even practice on the free baccarat to assimilate the rules. Then increase the bet as you progress. As with all casino games, set a reasonable amount of winnings to achieve in your head and stick to that amount for a better chance of winning. Remember also that baccarat is still a game where it's good to have fun and enjoy yourself, it's not a way to make money in the long run.